H.W. Stockman
November 20, 2004
"Big Mama" is the highest point on La Madre Ridge, just west of Red Rock National Conservation Area, west of Las Vegas. The hard parts of the hike are trailless, and very brushy in places, with at least 4000' accumulated elevation gain and at least 9 miles of hiking. On a clear day -- I imagine! -- the views of White Rock Hills and the Willow Spring gap are spectacular.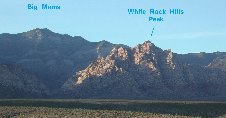 Here's a view of Big Mama, looking NW from the scenic viewpoint on Rte 159, just east of the Red Rock Loop exit. The low point left of White Rock Hills Peak (and directly below Big Mama) is the Willow Spring gap.
Click on any small image to see a larger picture. (Cliquez sur une petite image pour voir la grande image correspondante.) Order is essentially chronological. Even the large images are reduced in size to 20% the number of pixels in the originals. Contact me if you want the full-sized images. To save a large image under Windows, 1) click on the corresponding small image; 2) when the large image appears (fully), right-click on the image and choose "Save Picture As..." on the menu. Be sure to note where you saved the image!
| | | |
| --- | --- | --- |
| GPS trace in red. The blue word "Dam" indicates the signed LaMadre Springs. There is a faint cairned trail up to the ridge crest at ~7000'; when the route turns WSW, the rest is trailless. "Stay west" indicates one very brushy section. DON'T take the descent marked "Yuck!" An on-line map is here. | Stone Cabin on way up (see map). | Cairn at mine on way up (see Blue "MineMoma" on map). Looking SW; the peak at right is a minor summit on the way to Big Mama. |
| | | |
| View south near ridge crest, as clouds move in. | View south, clouds now obscure the mountain top. | From the peak, view west toward Griffith Peak (almost in clouds on left), over Wilson Ridge. |
| | | |
| View NE from south end of summit; requisite cerebellum check. | View down and NE. | GPS shows 8235' elevation. View SE at Willow Springs gap (4700'). |
| | | |
| View S. Potosi makes an appearance on skyline. | Better view of Willow Spr. gap. | Conditions change quickly (see photo to left two frames). Bridge Mountain is visible now. |
| | | |
| To the east, looking down 2000' on White Rock! | After some descent, E toward Madre (at left), Damsel and Turtlehead. | View back S at Bridge Mountain and Mt. Wilson in distance. |
| | | |
| More descent, more sun; Turtlehead to left. White Rock Springs Peak in foreground, Calico Hills in back in the sun. | Hunters' camp at cave ("CaveM" on map). | |
| | | |
BIG MAMA: OK, I made up this name as a joke, since the peak is the highest point on La Madre (Spanish for "The Mother") ridge. There is a cairn on top of the peak, but no register; we left a pen and our names on two pieces of cardboard (protected by two nested bags) in the bottom of the cairn. If you feel like going up there and giving the peak a real name, please bring a register (I've found plastic coffee jars, made out of PETE with polypropylene (PP) lids, to be fairly durable). As for new names, I'm partial to "Tia Grande."