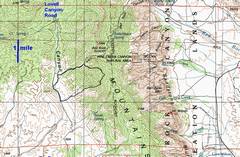 100k topo map with GPS trace.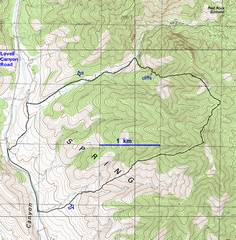 24k topo.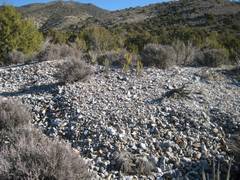 This is the remnant of an agave roasting pit
used by the Amerinds.
View of snow on Griffith Peak.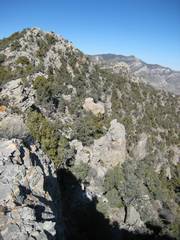 After cresting the ridge, I see the
highpoint (~7485') to the N.

Panorama ~E; Bridge Mountain is the light
tan sandstone peak near the center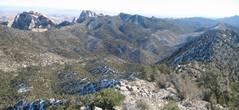 View SE over limestone escarpment.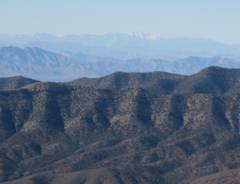 Snow-covered Telescope Peak is visible
across Death Valley, to W.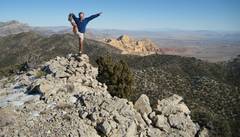 On highpoint; Bridge is tan lump just
R of center.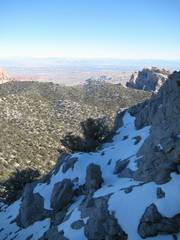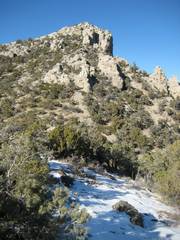 Next lump to N.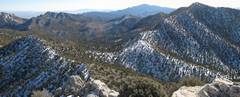 View S to Potosi, just R of center.
The N slopes were covered with cold,
slippery snow. I don't think it was
above freezing all day for >6000'.

View N across Rocky Gap Road (RGP) valley.
Labels are above Griffith (G), on Snoopy (S),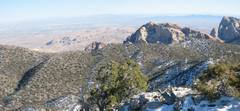 The limestone escarpment looks smooth.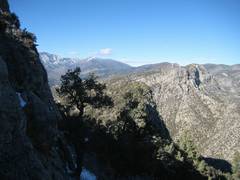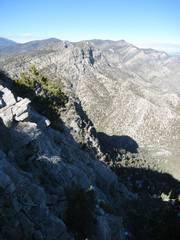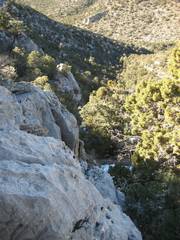 Oops.  I started down too early, to
avoid brush, and hit cliff bands instead.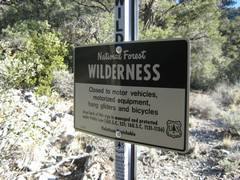 I find these signs about 100-200' back
from the road, typically in areas where
no person could get a vehicle.  I suspect the
USFS puts them on the park boundary
in inconspicuous places, simply because
the obvious ones get torn down.