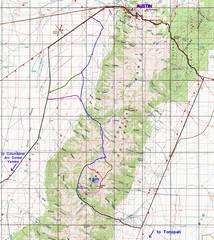 100k map for orientation. From the
SE, one can drive to Bunker Hill via
Kingston. The blue FR002 continues
over the pass to Austin, and is drivable
by most cars (but too narrow for
trailers) – call the Austin ranger's
office for conditions. The red "trail"
Is the one I took to Bunker Hill.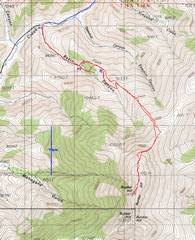 GPS trace on 24k map.  P1 is a parking spot
by a stream on FR 402.
When I walked up to P2, I realized that a modest
-clearance car/truck (e.g. my Subaru Outback
AWD) could make it that far, saving nearly
500' elevation gain and at least 1.2 miles RT.
The switchbacks N of P2, as shown on the
USGS map, have been obliterated by landslides.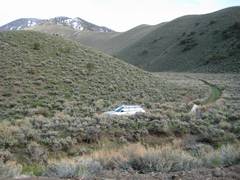 The first night, I camped alone at ~7750',
on the NW end of the red trace in the
previous map.
(When I finished my hike at 10:50 AM
the next day, I met Joel, Josh and Howard
at the road, and they then started the hike.)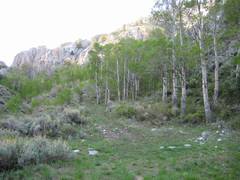 This is the P2 parking spot on the 24k map
above; the road ends in a grove of trees,
where there is enough room to turn the car
around.  I walked here, but could have driven.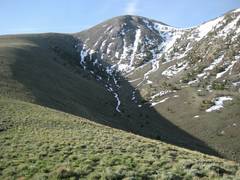 The N summit of Bunker Hill comes into view.
After reaching the ridge N of P2, there are
some vague use trails through low sage.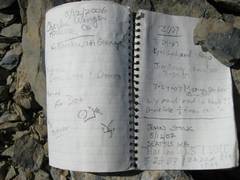 Prepare for 8 pages in the registry.
Recognize anyone?

View S.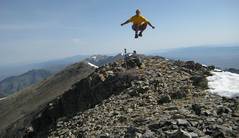 View N.  There are some transmitter
towers on the next lump N, and I had
Verizon cell service.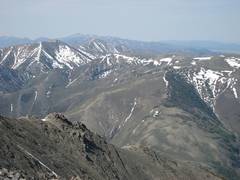 Zoom view S; Arc Dome is on the horizon.
Mountain bluebells.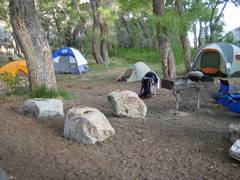 Our campsite at Peavine Campground.
The sites up by Bunker Hill (Kingston
through Big Creek) were packed, so we
drove way S to a nearly empty,
but very pleasant Peavine.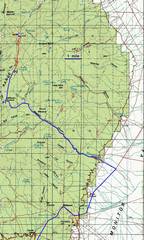 The next day I headed through
Manhattan on a very good dirt road to
Rte 82 and then through Belmont. The
road is dirt N of Belmont, and is
quite rough for the last few miles.