Castle Tower (Nevada, S of Boulder City)
Harlan W. S.
February 25, 2006
The peak was benchmarked at 4879', but the tower is the highest point; the last closed contour (a 40' by 90' loop) is at 4880'. A recent geoid change moves the benchmark to 4882', but that change "floats all boats". Here's another map for road access. South of the Railroad Pass Casino, turn South on rte 95 toward Searchlight. When you merge onto 95, set odometer to 0. In 21.2 miles, turn right onto transmission line road, then follow the map above.
Nick recommended this route to CP; when I told CP there was a tower on top that was probably the true summit, he was hooked. We brought harnesses and a rope, expecting a big climb; then when we were distracted, the Siberianů Anyway, there is a nearly class 3 way up the tower, on the east side. There is one "committing" move near the top (meaning, "you should be committed if you try it"), where you have to mantle up about 5 feet; check your handholds carefully. It would be good to have 10' of 3/4" tubular webbing, tied in a secure loop; there is a rock horn on the upper side of the "committing move", so you can use the webbing as minor protection on descent, as you hang over the edge searching for footholds. A picture of the route (courtesy Don B.) is below.
A vulture flew overhead when we were on the tower; probably hoping for a fall and a meal. There was raptor down on the crag, lots of bird poop, and Luba found the remnants of a nest. We added a new OPS register on the tower.
| | | |
| --- | --- | --- |
| The roads in are quite good-- I had no trouble with a Subaru Outback. | The wash, view E. | Alda slogs up the normal route (almost--long story there). The other 3 went directly up the ridge. |
| | | |
| More slogging, view ESE. About this point, I realized we were 1 cliff band too low, and had an interesting chimney climb. | McCullough in back of Luba, near Castle Peak 4879' benchmark. | Luba heads over to check out tower. |
| | | |
| Hey Courtney, where's Luba? Omygod, there she is! | | Looking back at Alda, near benchmark. |
| | | |
| Luba picks up a rock to hit CP in the rear. What a cute joke! | I was late, so I flew in, but as I came down the camera case obscured my face. | I know I can climb up this way! (Look in shadows.) |
| | | |
| Donnie ties his shoe. | Obligatory apple and grape photo. | Chillin'. |
| | | |
| CP gets in the Spirit of things. | Look at me! Look at me! | Heading back down to Monkey Fist. |
| | | |
| From the side, the Monkey Fist looks a little too little. | Chillin'. | Luba heads over to next impossible crag. |
| | | |
| I'm warning you, Luba and CP! Don't make me stop this mountain! | No, Luba, NO! Get down right this minute! | Heading back down south of Castle. |
| | | |
| Looking back on Castle, Monkey Fist and Friends. | | |
| | | |
Here's the tower route (courtesy Donnie B.):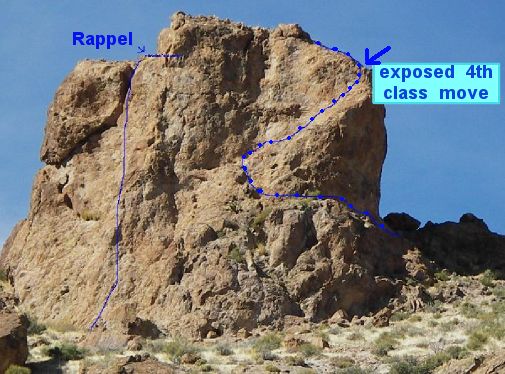 This is a view from the east side of the tower, looking west and up, so the view is a little foreshortened. There is a shallow rock horn at the top of the "4th class move" where you can loop webbing (you can pull the webbing up and off after descent of that section). This route was found and first climbed (in our group) by the Siberian.