GPS trace. Total route, with trip to
Peak 7667, was ~5200' accumulated
elevation gain.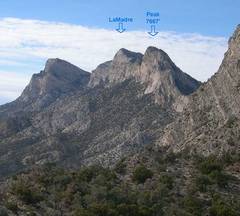 This is view of Peak 7667' from ENE
(i.e., looking WSW).  The peak looked so
cool from that side, that I felt I had to
try it.  Alas, the east-side route became
blocked by construction.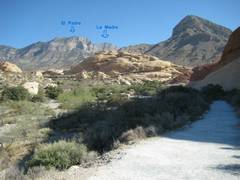 June 6/07 was an unusually cool day.
About 8:30 AM, I started N from
the Sandstone Quarry (on
Scenic Loop in Red Rock). The
destination is labeled on photo.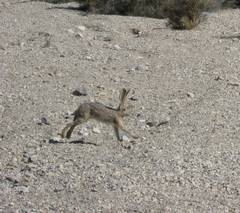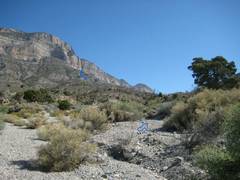 Almost always, you stick to the main
wash. When the wash splits, take the R
fork. The blue line shows the ridges, then
ends when the route ducks behind the
E El Padre cliffs.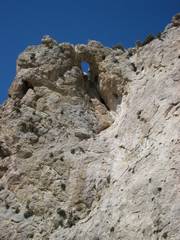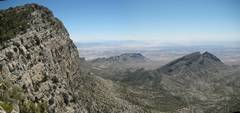 Climbing ENE on Madre summit ridge.
Summerlin Peak is in Middle, Damsel
(Pincushion) is to R.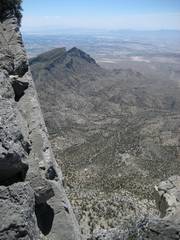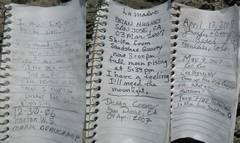 Three consecutive pages of the log.
I got the date wrong.

View SW over El Padre (peak 8093,
as named by Dr F.)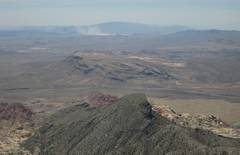 View S over Turtlehead, to a dust
(smoke?) plume in distance.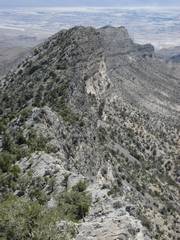 Now descending ENE to 7667'

Panorama back W.  There are people
on Charleston (at R), but you can't
see them unless you squint.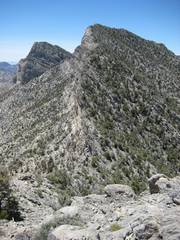 Next follow 5 views of the "edge".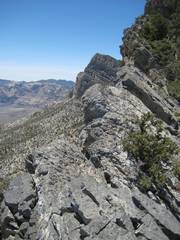 The edge is overhung in many places.