RR3: Bridge, Rainbow and Wilson Peaks in One Day
(Red Rock, NV, west of Las Vegas)
pics by Harlan W. S. & Lori C.
April 26, 2008
Note: in March 2011, the road to the back of Wilson was closed 0.4 miles down from our 2008 parking spot.
Wilson, Rainbow, and Bridge are the three mountains that dominate Red Rock Canyon in views from the east, such as this view from Redcap: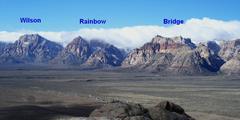 I never thought about climbing all 3 in one day, till Bruce L asked if I thought the hike were possible. Then the overly-analytical part of my brain (the part left) went into problem-solving mode.
This trip was planned to minimize the elevation gain necessary to reach all three peaks in one day. The estimates of accumulated elevation vary from 8300' (taken off the GPS), to "just" 7000' from a mapping program (the latter overlays the GPS track on a crude digital elevation model, and likely underestimates). Total distance is ~17.5 miles.
The first part of the hike is on decrepit road, then over the Bridge Mountain trail, which becomes indistinct and is marked with cairns on the sandstone. The ascent of Bridge is class 3 with exposure. Once back at the limestone ridge (after the Bridge climb), there is no more trail. The downclimbs to Rainbow and Wilson need be no more than class 2; but they are grueling, with very steep talus or crumbing limestone (class 3) for Wilson.
We spotted a car at the southern road (see map), then drove to the west side of the Rocky Gap Road, and camped at ~5800' . The next day we got up early, were on the "trail" before 4:30 AM, and visited each peak from the limestone ridge; by 5PM we were back at the spotted car.
Bruce L had previously completed the more exhausting trip from First Creek, over the three peaks, to Willow Springs.
| | | |
| --- | --- | --- |
| 100k map with GPS trace. | View E from limestone ridge W of Bridge. | Sunrise over Bridge Mountain. |
| | | |
| | Down chute 1. | Chute 2. |
| | | |
| | Chute 3. | View S across causeway, to Rainbow. |
| | | |
| | | |
| | | |
| | | |
| | | |
| | | |
| | | |
| | | |
| | | |
| Oops! This out-of-order pic shows LaMadre (gray) in back at far left, then (L to R) Bridge, Bridge Point, Mescalito, Pine Canyon, Juniper (red), Gunsight, and Rainbow. | | |
| | | |
| | Now we're back on the limestone ridge, heading S. This view is SE to Rainbow and Wilson (in back). | View E to Rainbow, as we descend off the ridge. |
| | | |
| View NE from Rainbow. | View N from Rainbow. | View W, back at the limestone ridge we must traverse. |
| | | |
| Back on the ridge, a view ~E toward Bridge (L) and Rainbow (R). | Lori and Britta on point 2198m. | Mighty Britta. |
| | | |
| Doug on point 2198m. | | Farther S on ridge; this view is E to Wilson. |
| | | |
| | Lori cherishes every bit of talus as we head down to Wilson. | We've come down the limestone, and are now about to gain 700' to climb back up to the sandstone top of Wilson. |
| | | |
| Heading NNE to the true summit of Wilson. | View S on summit. | |
| | | |
| | Lori expresses her appreciation. I hold two symbolic pieces of talus. | |
| | | |
| | | |
| | | |