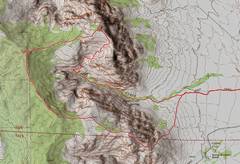 We went clockwise, 11 miles and
~5000' accumulated gain, 8.75h
with leisurely rests.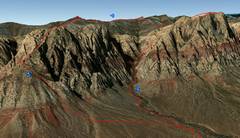 This Google Earth synthetic view shows
the route over Indecision (L), the
limestone ridge in back, and down over
Wilson (R), out the First Creek
drainage.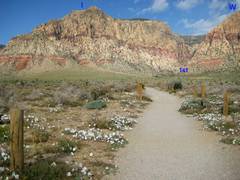 If the sun had risen when we started,
we would have seen this view! Route is up
Indecision (I), across the limestone ridge
in back, and down Wilson (W) to exit via the
First Creek (1st) drainage. Photo is from
an earlier trip.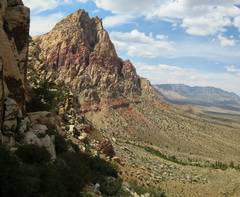 Wilson to N, earlier trip.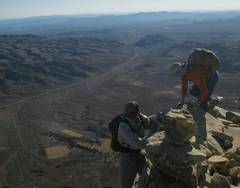 Leaving summit of Indecision. I asked
that this not be my last picture of them.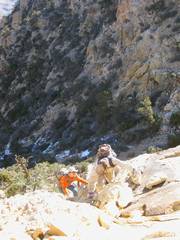 There is a gulf between the sandstone
peak of Indecision, and the 6700'
limestone peak to the W, but it wasn't
that bad.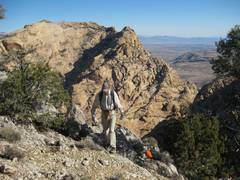 The limestone ridge was rugged,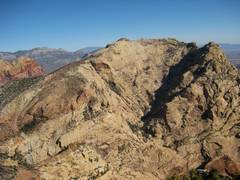 Wilson with Hidden Bowl. Rainbow
is at L.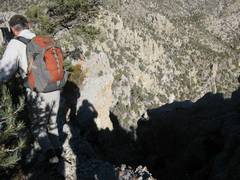 Big drop to R.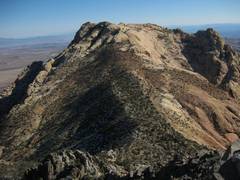 After stumbling down the ridge connecting
to Wilson—where we encountered cliffs
and very steep talus covered with snow—
this was the first place I felt comfortable
taking a photo.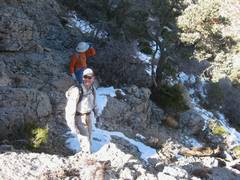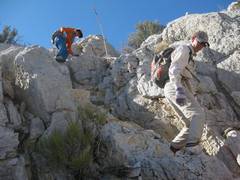 Almost done with the crap…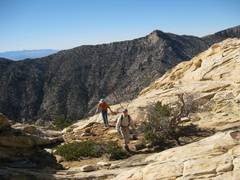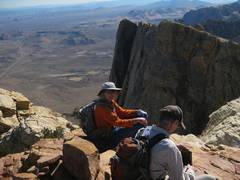 And magically, we're on Wilson! View SSE.