The Route to Moapa
This page is intended to help you find the way to the top of Moapa Peak.
You must pay attention to the cairns on the route from 'A' to B (see below), as this is the easiest place to get lost on descent, and there are a few class 3 sections.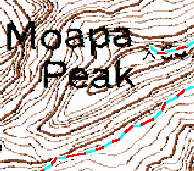 Map of GPS track to Moapa Pk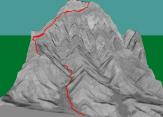 3D track, view NW from above parking area; 1.5x vertical exaggeration.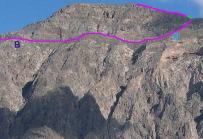 Photo of Moapa, view NW from parking lot, with route marked in magenta. Note locations of points A, B, B' and C.
'A' is the location of the saddle. The dotted green line indicates the route up to the saddle, hidden behind a ridge in this photo. The segment B to B' is the traverse along the base of the wall.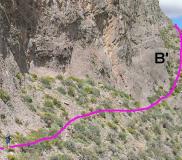 View ENE from point halfway between B and B'. At B', one hikes NNE up the slope to the summit ridge.
Between B and B', one hikes along the base of a wall (cliff).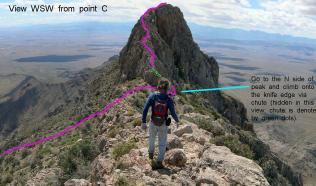 View WSW from point C, showing the route on the knife edge, to the top of Moapa. After gaining the ridge, one must go "behind" (north of) peak to climb onto the knife edge.
GPS FILES
You can read these files into an application such as ExpertGPS or MapTech, to see the route and to select waypoints. The simplified rxf files contain selected waypoints (<=30) to define the 4WD route to the parking area, and the hike itself; these waypoints can be uploaded to your GPS. Datum is WGS84. The txf and rxf files are text; the gpx file is in XML.
Full track in ExpertGPS (gpx) file format.
Full track in MapTech (txf) format.
Waypoints for the hike from the parking lot, to the top of the peak.
Waypoints for the drive in from I-15 to the parking lot. The waypoints start at the off-ramp of I-15, at exit 100 for Carp-Elgin. I heard that an ordinary passenger car can get within 3 miles of the parking area, but a 4WD is much more practical.