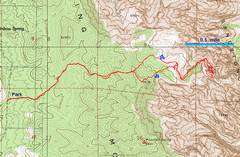 We actually drove to the west side
 of the limestone ridge from  Mountain
Springs; but you can approach this
from a better road off Lovell Canyon.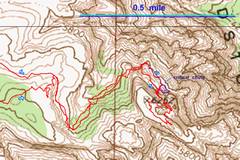 This is a close-up of the previous map,
 showing a "mistake" that we made.  On the
way back, Len wondered aloud how
 we could possibly have missed the exposed
 traverse; answer: we mistakenly went below it!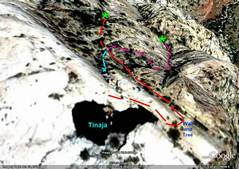 This google earth map shows the
chute one must take to reach the final
summit plateau. The blue shows the dead end.
The red shows the correct fork of the chute
(climber's L); the magenta shows another way
I took over to the correct chute. The
 pink-and-blue dot shows the critical point
where one must cut L. The green asterisks show
the correct broken-top ponderosa pine (L)
and a ponderosa with a dead top (R).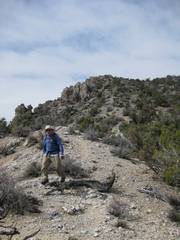 View W as we descend the limestone ridge.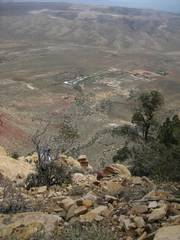 Suddenly, we are on the N end
of Monument, look at Bonnie Springs.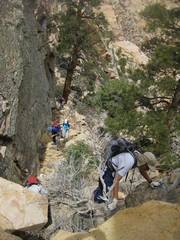 The correct fork of the chute.
View NE and down.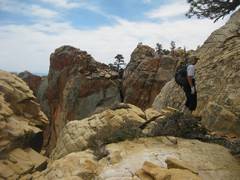 View SE.  Len is about to climb up
the wall.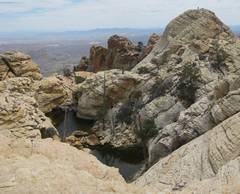 View SE, taken from near the 6252' elevation
checkpoint (see map).  Peter B is atop
the highest peak; in front is a large tinaja.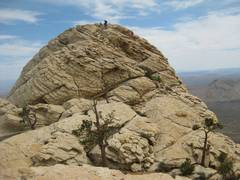 Doyle, Len, Teri and Lori head to the top.

View roughly N. The dominant
sandstone peak is Wilson, but Far and
Indecision Peaks blend into the same mass
in this photo. Calico Hills and La Madre are
visible at R of Wilson.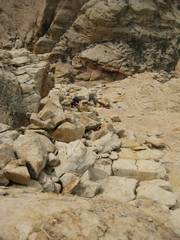 Susan comes up, after the
grand tour of the top.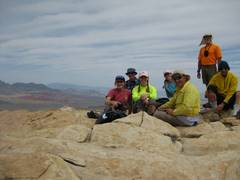 Group summit shot.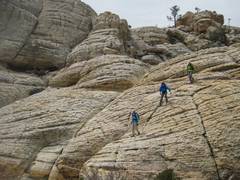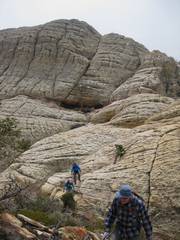 Coming down from true summit (in back).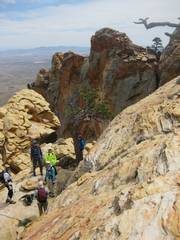 View SE, after group has dropped down
wall by pinyon pine.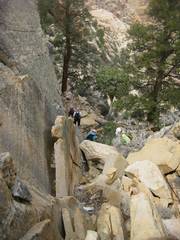 View down chute, to NW.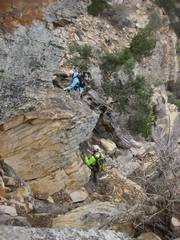 This is the critical point where one must jog
L on way down OR way up. View NW.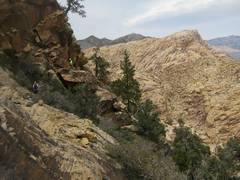 Now the improbable traverse back on NE
side of peak; view NW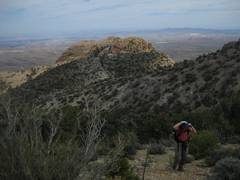 …and magically, we are once again back at
the limestone ridge, with a view of Monument
(L) and Hidden Peaks (R, blends in) to E.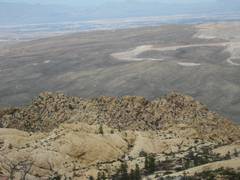 View E over Sandstone Peak and
Rhodes Ridge.