LVMC Orderville Canyon Trip (Zion)
Pics by Harlan W. S.
May 28, 2006
Hats off to BL for leading this trip, and thanks to the JM for his aid.
This is a moderate canyoneering hike, with a few class 3+ sections. When we did the trip, there were bolts for securing a short rope on the west side (right) of the first big chockstone, and there were bolts and webbing on the east side (left) of the last big (double) chockstone. Take at least 40' of rope (or 3/4" to 1" webbing), so the rope/webbing may be doubled over for a 20' drop. You can do both downclimbs without the rope, but the walls are unpredictably sandy and slick, so why chance it?
This hike requires a permit from the Zion Park Service. Absolutely don't do this hike if there is rain in the source areas of the watershed.
Click on any small image to see the corresponding larger image. If you are using MS Windows and wish to save the large image on your computer: right-click on the image, and pick "save as" from the menu. Be sure to note where you saved it!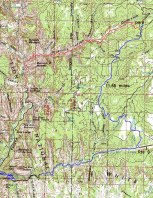 The above map shows the route. The trip requires two cars, one parked at the Zion Visitor's Center or a campground that is easily accessed by the free shuttle.
The blue line on the map shows the driving route. Take route 9 east past the eastern Zion entrance, and ca. 0.4 miles past the mile 46 marker, turn north on a paved road marked for Chamberlain Ranch (the pavement turns to gravel in ca. 5 miles). Take this road 11.65 miles to a left (west) turn down a gravel road marked for the Orderville Wilderness Study Area. Park at ca. 0.2 miles and walk down the road into the canyon. (Note this route is slightly different from the directions in Kelsey's 1995 canyon hiking book.)
The red lines on the map show the hike. The first part of the hike travels roughly WSW for 9 miles down Orderville Canyon to the Virgin River. In a typical late spring, the last 2 miles of this leg may require 10 short cold swims or chest-deep wading (wet suit suggested). Then one encounters the Virgin River. The next leg requires wading (perhaps chest-deep) down the Virgin River for 1.5 miles till the paved trail is encountered. The last leg requires an easy walk of ~1 mile down the partly-paved path to the Temple of Sinawava bus stop. Take the shuttle bus back to your second car.
OK, here are trip pictures.
| | | |
| --- | --- | --- |
| View S to Watchman, near campsite at South Campground. | Bindweed, morning glory family. | Early part of "trail" west. |
| | | |
| V2 above first steep descent to wash. | phlox. | |
| | | |
| AYC. | Penstemon. (Utah firecracker?) | This water started running down the wash as we looked on -- there was no rain anywhere nearby. |
| | | |
| | White admiral. (Thanks to Anya D. for ID.) | |
| | | |
| | | |
| | | |
| | | Go to the light, John! |
| | | |
| First big obstacle. | | |
| | | |
| | Violet. | |
| | | |
| Nathan & Val neath columbines. | | |
| | | |
| | | |
| | | |
| | | Nathan with skink. |
| | | |
| | | Camouflage toads. |
| | | |
| Columbine. | | More and more water. |
| | | |
| The double chockstone. | | |
| | | |
| | Shootingstar. | Nathan edges down. |
| | | |
| V2 launch. | Any way is wet. | Still wetter. |
| | | |
| Nathan walks on water. | | Finally at the Virgin River; no surcease. |
| | | |
| | Heading S in the Virgin River; Bruce up to his chest in H2O. | A full-wetsuit canyoneer floats by. |
| | | |
| The next day, Nathan cooks another low-cholesterol breakfast. | | |
| | | |