Rainbow Peak (NOT Rainbow Wall) via Juniper Canyon
H.W. Stockman
October 12, 2003
This hike starts at Pine Creek parking area off the Red Rock Scenic Loop, and proceeds up Juniper Creek to Gunsight Notch. From Gunsight Notch, the route crosses S to SW, on a series of ledges, across the NW side of Rainbow Wall. Then the route travels E up Rainbow Wall, and then cuts S to a forested valley between the peaks. The route continues E over a ridge, drops to the S side of the ridge, then cuts north and descends a precarious set of ledges. Finally the route travels roughly E to the top of Rainbow Peak (~6815'). A much better guide to the route is available for members at www.hikinglasvegas.com.
Click on any small image for larger version. Photos were reduced to 20% of original pixel size; contact me if you want the full-sized image.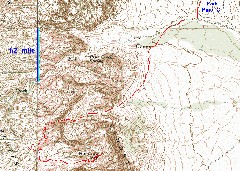 Map of the route with GPS trace. In the area denoted by dots, the GPS is unlikely to pick up sufficient satellites for a fix.
| | | |
| --- | --- | --- |
| At ~4800' in Juniper Cr. Canyon, looking E. | | At the bottom of the Class 4 chimney, ~5400' in Juniper Canyon. |
| | | |
| | | Above the difficult chimney, hikers approach Gunsight Notch. |
| | | |
| | | W of Gunsight Notch, we begin to head S along the back (NW) side of Rainbow. |
| | | |
| There are some Class 4 sections on the back side. | | One must find the right set of ledges, often descending and climbing again. |
| | | |
| Now we head E up Rainbow Wall. | View E on "Photographic Ledge". Beyond this stretch, we turn N (left). | We've turned L, and now rest before descending. View N. |
| | | |
| Down the Class 4 ledges. | Atop Rainbow Peak, view S by Mount Wilson. | |
| | | |
| Panorama, roughly N. Rainbow Wall is the peak at left. Bridge Mountain is in the center of the photo. | Descending back along the N side of Rainbow Peak. View roughly E. | Back up the Class 4 ledges. View down and roughly N. |
| | | |
| | Still on the ledges. | Debbie rests; Wilson in background. |
| | | |
| Gunsight Notch on descent, view E. | Don comes down the chimney in Juniper Canyon. View roughly W. | |
| | | |
Some GPS-related files-- USE AT YOUR OWN RISK!
Here is a TXF file (essentially text) for just the last portion of the hike, RELATIVE TO WGS84.
PLEASE NOTE: This is a class 4 hike, and there is no substitute for obtaining the detailed instructions from Branch Whitney's site. The GPS points above should be accurate to +/- 20' horizontal, IFF you are getting good satellite reception (display EPE or "accuracy" on your GPS at all times). However, remember that these are very steep peaks, and 20' uncertainty in the horizontal direction can put you above or below the correct ledge, by 20 to 50'. So, use your head and look for cairns, and don't do anything beyond your capabilities.
Here is a key to the positions of major features on the track, and this key shows the track relative to the waypoints for approaching both Rainbow summits from Oak Creek.