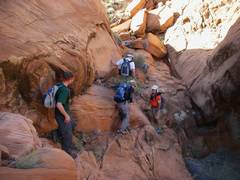 Dropping into sandstone canyon; pic by Colin.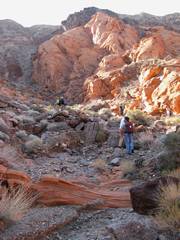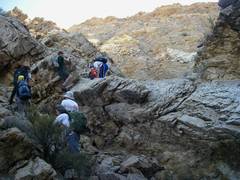 Onto limestone; pic by Colin.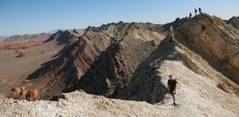 View W across "cornice."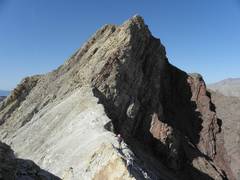 We walk across the mud+gypsum "cornice."
View W. Next we will climb the good
frictional limestone on the left of the ridge.
Pic by Chris M.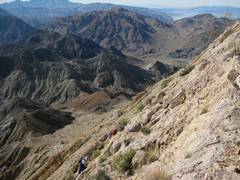 View SW as Bill climbs the limestone.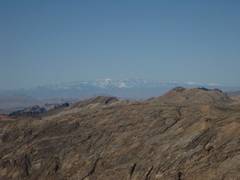 Charleston in distance.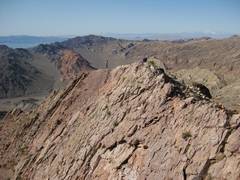 Eric explores.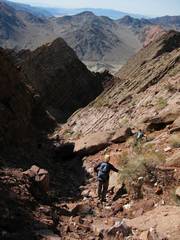 Now we head SW ove conglomerate.
When we reach the far side (in shadows),
we will turn NE and enter the sandstone.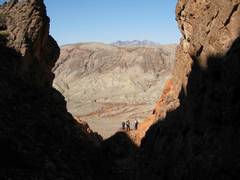 Now we turn NE and enter the sandstone canyon.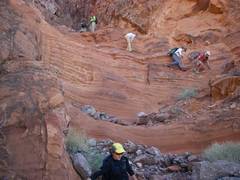 The sandstone was wet and brittle.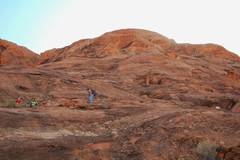 Ah yes, the last ramps after the canyon.
We set up the red handline, with
"meat anchors" on each end across the
iffiest stretch. Chris M is hidden on the R,
in a little cave; we had two people on the L.
These pictures taken from below by Eric,
camera pointed up in telephoto mode.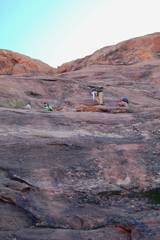 After we got a replacement meat anchor
(2 on the L side), I went back to provide
artificial footholds (red shirt, tan shorts).